Regular price
Sale price
$17.00 USD
Unit price
per
Sale
Sold out
Gold & Royal Coronation facial serums
GOLD  DAY ESSENCE SERUM
 Gold has earned it's name!
Gold day essence is light and quick absorbing. Use after toning with mystic and before veil glycol acid face cream. 
Literally feed your face with jobaba oil, sweet almond oil, caffeine extract, squalane, hyaluronic acid, argan oil plus high levels of vitamin c using orange, lavender, lemon and litsea essential oils. 
Look awake, feel awake, reduce puffiness, fight fine wrinkles, with gold. Made to soak into the deeper levels of your skin.
Please always use sunscreen and avoid sun and tanning beds. Shake well and drop 6-8 drops into clean hands. Apply evenly to your face. 
You're going to love this.
ROYAL CORONATION NIGHT SERUM
We can't say enough about this product....It's like drops of royalty in a bottle.  Use nightly on a freshly cleansed and toned face. The elite ingredients and committed use of Royal Coronation may help heal damaged skin, reduce inflammation, reduce fine lines and wrinkles, reduce scarring, hydrate, equalize oily and dry skin, improve skin's texture, maintain and increase collagen levels, stimulate cell turn over, increase circulation and oxygen levels, increase elastin, moisturize, assist in sagging skin, rebuild the skin, and brighten dull skin.
We used the highest quality ingredients to bring you this royal product, the ingredients speak for themselves.  It is literally packed full of goodness for your nightly skin care regimen.  Treat your face to hours of the replenishment and nourishment Royal Coronation offers while you sleep.  
Argan to carry the goodness deep into the layers of skin.  This will not just sit on top of your skin it is designed to work from the inside out. Not too heavy, not too light, not to greasy.  Argan oil alone is packed with omega fatty acids, vitamin E and linoleic acids. 
Rosehip Oil anti-aging.  It has the ability to penetrate deeper into layers of the skin.  Rosehip Oil is full of vitamins A & C, antioxidants and essential fatty acids to help correct dark spots, hydrate, reduce scarring and fine lines.
Jojoba Oil is readily absorbed as it provides long lasting hydration and moisturize. It alone contains Vitamins E & B for retaining moisture, chromium, copper and zinc. Jojoba oil is the closest oil to sebum which is produced by the human skin to protect and heal.  It helps with sensitive skin, oily skin, fine lines and wrinkles.
Pumpkin Seed Oil is full of vital skin nutrition.  It contains vitamins A for anti-again, C for brightening, E and F for healing and moisture, zinc, omega 3s and 6s, selenium.  It's high in antioxidants to fight signs of aging.  This powerful oil fights acne, helps maintain collagen levels, stimulates cell turn over, hydrates, soothes inflammation, reduces scarring, improves skin texture, increases circulation & improves oxygen levels.  You can see why we had to add this oil to the Royal Coronation.  Who knew pumpkins were so valuable to our skin?
Hyaluronic Acid will attract and hold vast amounts of moisture creating fullness in the skin.  It can hold 1000 times it's weight in water!  It revitalizes the outer skin layers so skin looks and feels softer, smoother, and hydrated to help improve the appearance of fine lines and wrinkles.  Hyaluronic Acid is great for all skin types, protects against free radicals, and provides long lasting hydration.
Matrixl 3000 is an anti-aging peptide.  Targets a wide range of aging signs by promoting production of collagen and elastin in deeper layers of skin.  It removes impurities, assists with sagging, wrinkles, dryness, discolorations and lines.  
Matrixl Synthe 6 is a powerful peptide that boosts 6 skin rebuilding essentials.  Assists in reversing the signs of aging. Evens out skin and smooths wrinkles by rebuilding from the inside.
Aloe Barbadensis is better known as aloe vera.  It soothes and acts as an anti-inflammatory, reduces scarring, heals wounds while acting as an anti-microbial, antioxidant, humectant and anti-itch ingredient.
Glycerin will nourish skin from within.  Initiates soft, supple skin, reduces rashes and breakouts, moisturizes, treats skin problems like acne, pimple and blackheads, treats clogged pores  and reduces wrinkles.
Glyceryl Polymethacrylate is a mixture of glycerin and polymethacrylate acid.  It creates a protective barrier on the skin that reduces the loss of water.  Enhances the texture and creates a smooth finish.
Propylene Glycol is used for a few reasons, it hydrates (we just can't get enough hydration), it keeps our products integrity in heat and freezing temperatures and it helps active ingredients penetrate the skin.
Palmitoyl Oligopeptide promotes production of collagen and hyaluronic acid in the deepest layers of the skin.
Calcium Pantothenate attracts moisture to helps keep the skin hydrated.
Vitamin E is superpowered! It hydrates, fights wrinkles, is an antioxidant, slows natural cell aging, neutralizes free radicals, reduces fine lines by increasing collagen production, treats dry skin, reduces hyperpigmentation spots, brightens the skin and smooths scar tissue.
Orange Essential Oil has many healing properties for cracked and dry skin, slows down skin aging, strengthens sensitive skin, anti-inflammatory, helps increase vitamin c absorption, increases collagen production and blood flow, high in vitamin C, fights wrinkles and dark spots.
Dehydroacetic Acid, Benzylalcohol for blendabilty of a smooth product and just a tiny bit of preservative to keep bacteria out of your new favorite face serum.
Now with or without tea tree, also known as melalueca oil. Tea tree is a natural anti bacterial. If you are struggling with acne the tea tree blend in Royal Coronation will fight bacteria on a clean face while you sleep.
For best results use with the Mardi Gras face system daily as directed.
SHAKE WELL BEFORE USE.  Apply 6-8 drops to a face cleansed with Reveal Glycolic Face Wash and toned with Mystic Toner before applying Veil Glycolic Face Cream at night.  
1 oz. black glass bottle with dropper.
Share the magic
View full details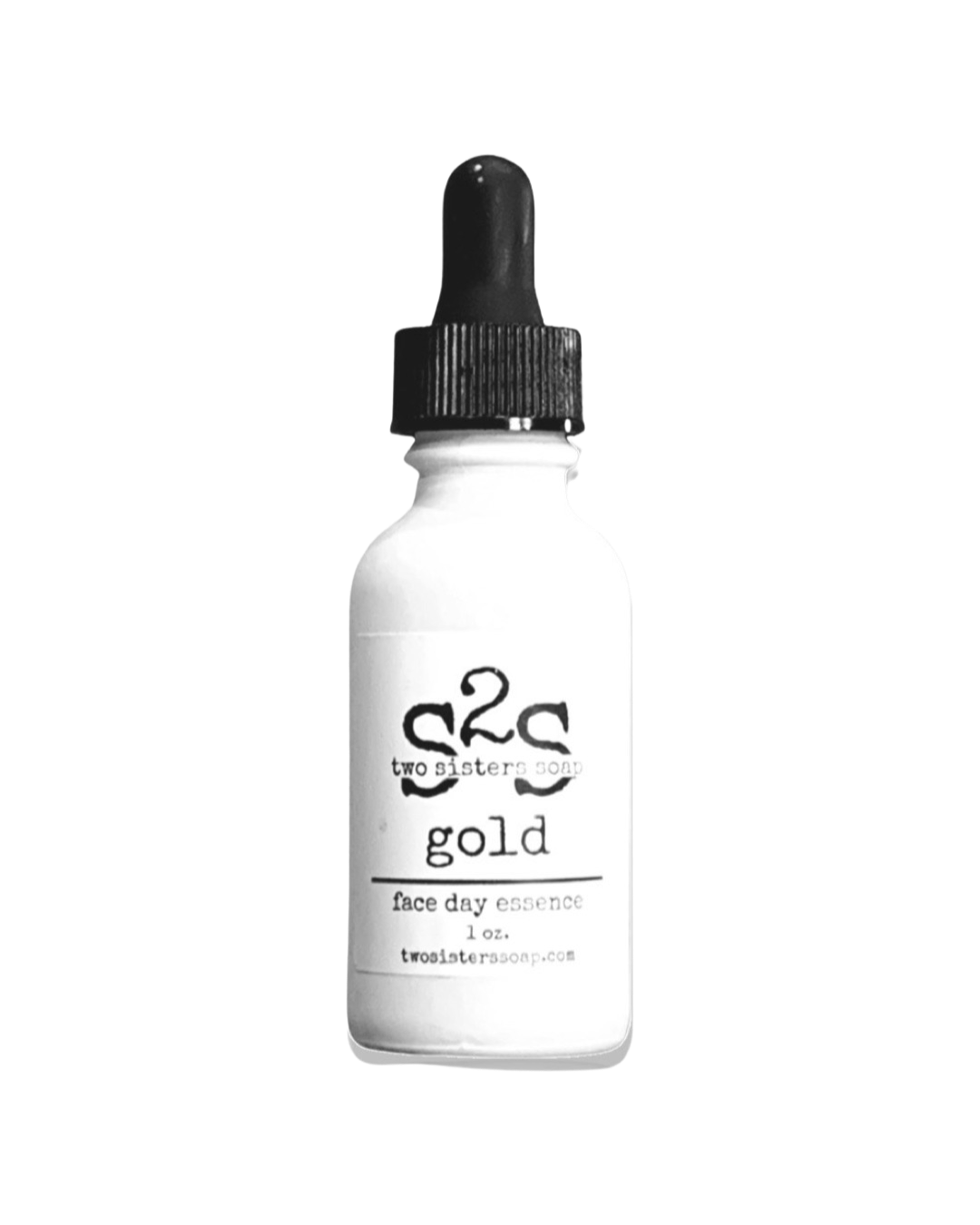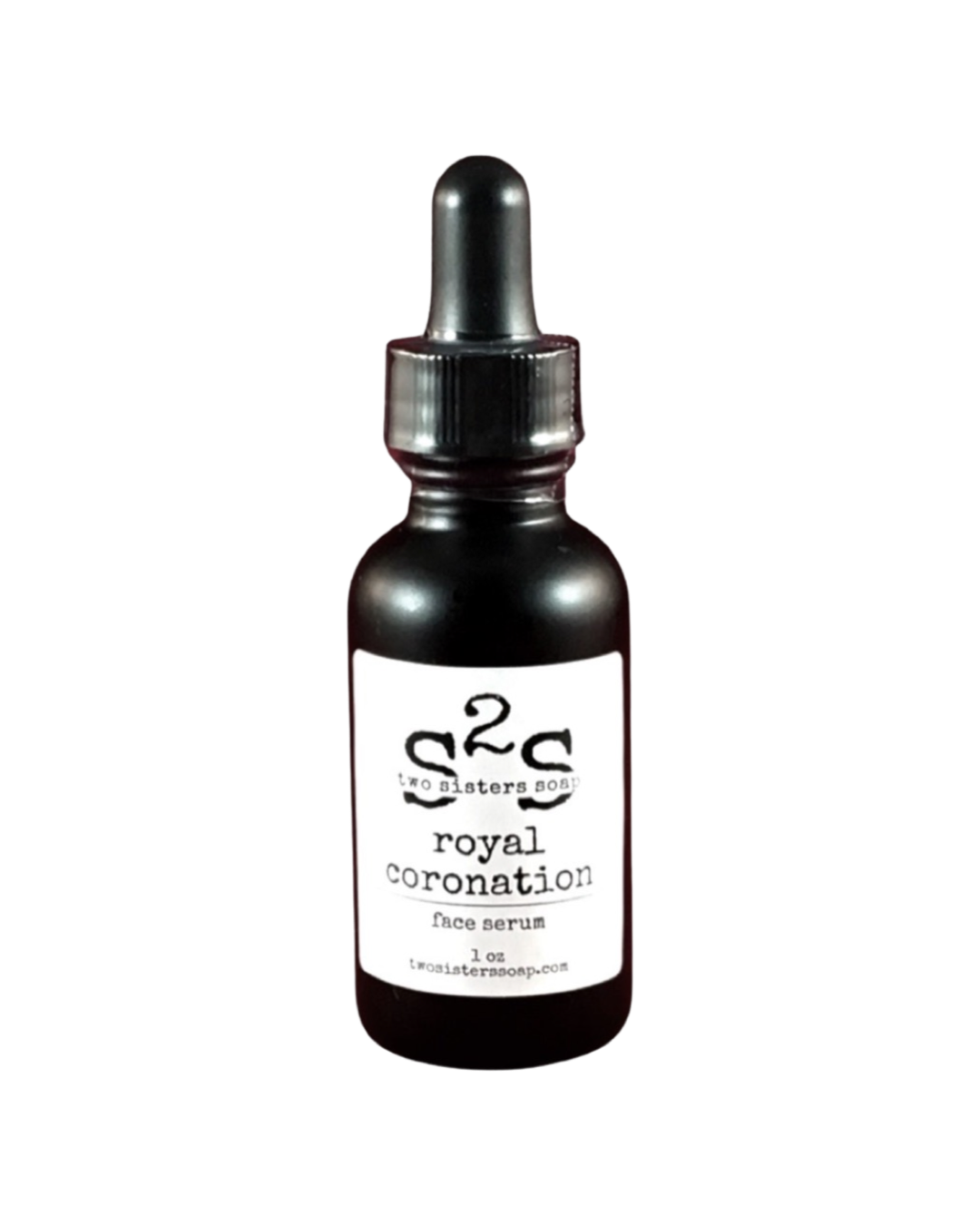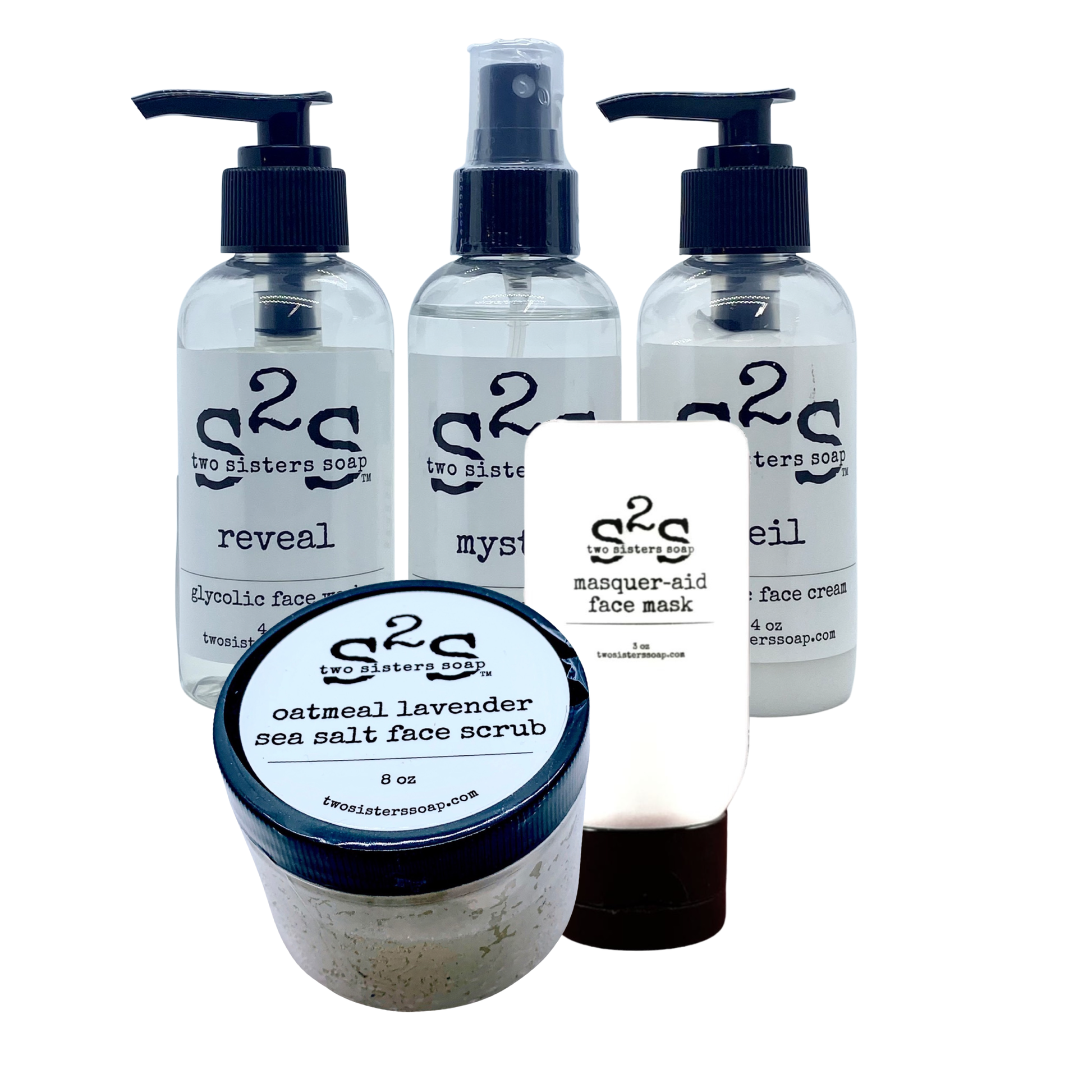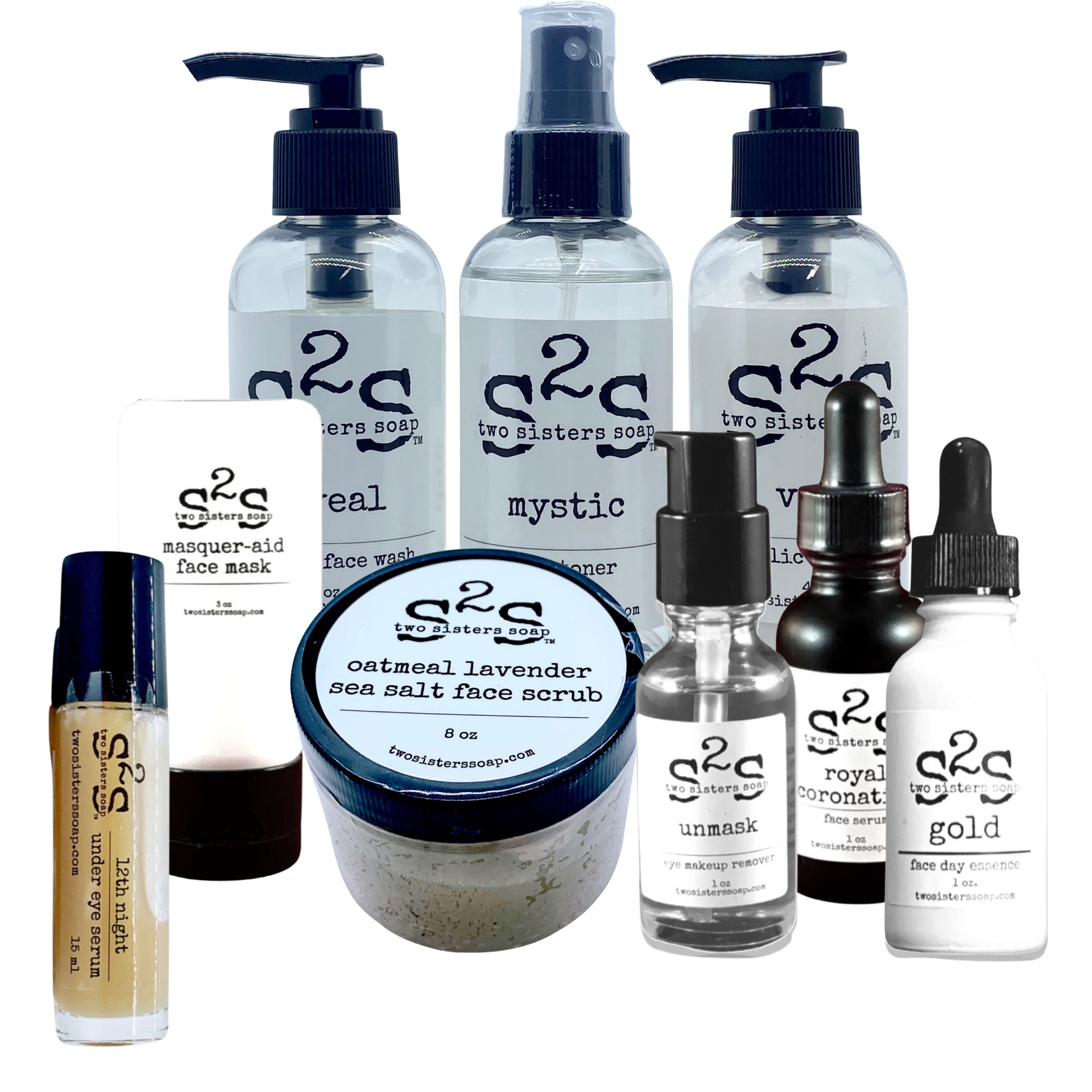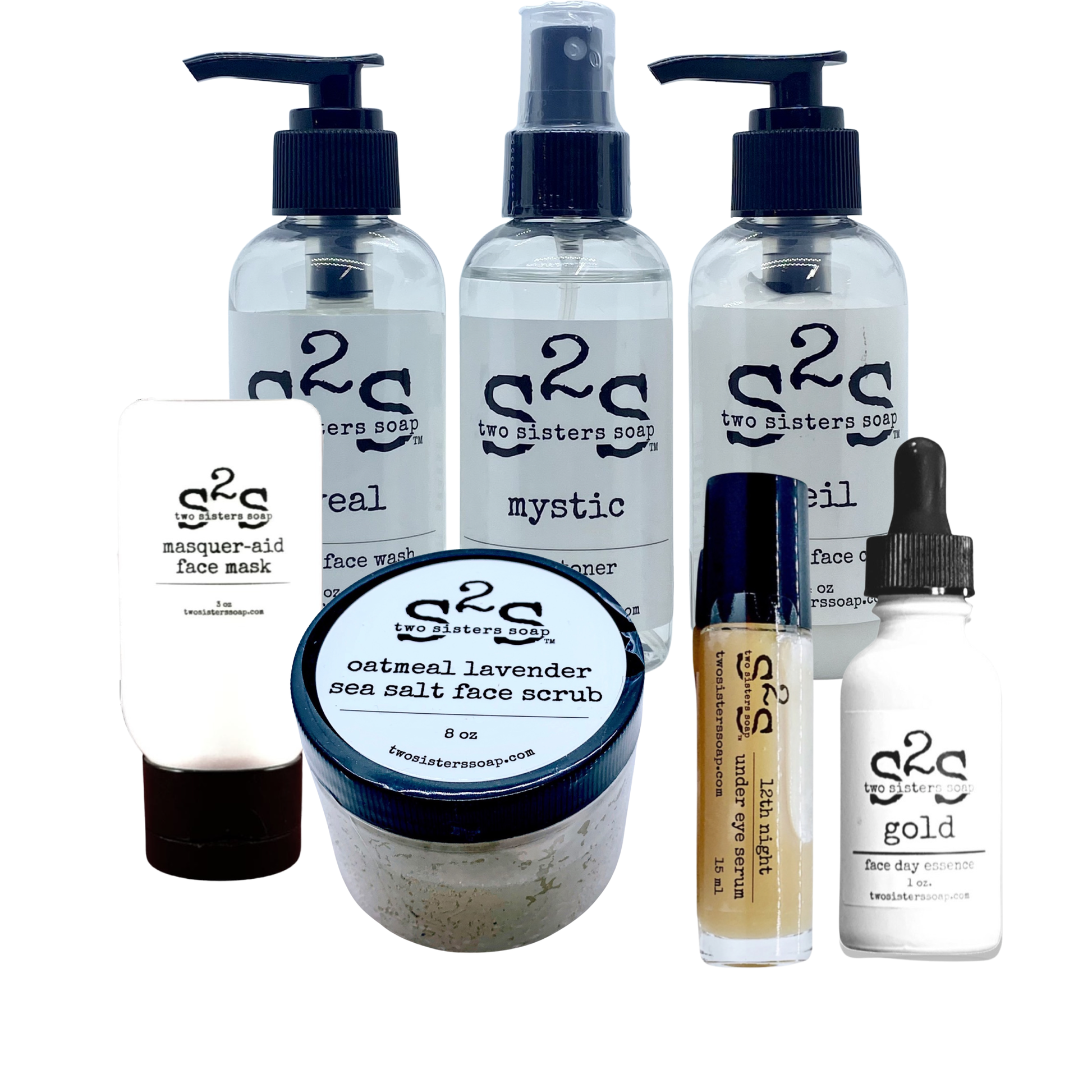 Mardi Gras Face System Bundles
Regular price
$40.75 USD
Sale price
$37.00 USD
Unit price
per
Sale
Sold out
Share
View full details